Combined Heat and Power for the Home Now a Reality Share on Facebook
The generation of most electricity produces enormous amounts of heat which is typically wasted - literally up the chimney. Cogeneration - or "Combined Heat and Power" systems make use of this otherwise wasted heat to warm buildings. Much of Manhattan is heated this way courtesy of several con-edison plants in the vicinity. It's a brilliant solution to improve energy efficiency in an urban area, but doesn't work so well in less urban areas. There, people typically rely on their own natural gas furnaces to heat their homes.


by Triple Pundit - Saturday, 27 June 2009


But what if you could reverse the cogeneration idea? Imagine taking an already efficient gas furnace and generating a home's electricity directly from it, while it heats?

That's the reality that Marathon Engine has in store for the North American market today. While not quite a start-up (they've been selling units in Europe for 5 years), the company's "EcoPower MicroCHP" units look set to sell well, despite, or perhaps because of the economy downturn.

ADVERTISEMENT



The EcoPower unit is not only capable of generating all of a sizable home's heating and electric needs - it can also sell excess generation back to a utility (assuming Net Metering is in legal and in place). The larger the home, the better the paypack which makes the system particularly suited for multi-family buildings and small businesses with strong heating needs. It's also best used in cold climates where heat is required for most months of the year - you won't find much use for it in Phoenix.

As for greenhouse gases, the company claims (see PDF here) to offer a 65% reduction in CO2 emissions vs a coal powered equivalent. In reality it's very difficult to measure the reduction because there are so many factors that might go in to what the device replaces and what kind of heating and electric demand is called for.

The only drawback is that the EcoPower isn't cheap - coming in at a whopping $35,000. But for a large home, the device could apparently pay for itself in a half-dozen years or so. Despite the cost, if it works, and as long as energy prices stay high, economies of scale will likely bring the EcoPower within reach of more consumers.
Related Links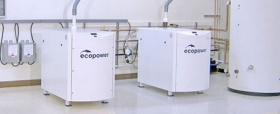 Latest News Headlines
Wednesday, 22 December 2010 Reporters Without Borders to host mirror site for WikiLeaks

Wednesday, 22 December 2010 San Francisco Pledges Astounding 100% Green Energy by 2020

Wednesday, 22 December 2010 Towers to Generate Solar Power in the Dark?

Wednesday, 22 December 2010 La Nina May Be At Its Peak, Says Australia's Weather Bureau

Thursday, 18 February 2010 Tetley Tea To Be 100 Percent Rainforest Certified By 2016

Thursday, 18 February 2010 Hottest Temperature Ever Heads Science To Big Bang

Thursday, 18 February 2010 Big business leaves big forest footprints

Thursday, 18 February 2010 GUATEMALA: Anti-Mine Activists Encouraged by Canadian Ruling

Thursday, 28 January 2010 GM Puts Its Money Into Electric Motor Business

Thursday, 28 January 2010 Italy To Unveil New Solar Incentives