by Environment Society of Australia - Tuesday, 18 November 2008


In February this year sources within Government leaked information to The Wilderness Society that a proposal to dam Baffle Creek was about to be put to the Queensland Cabinet. A later Freedom of Information search confirmed that a document had been prepared considering the viability of a dam on Baffle Creek.

Baffle Creek Dam was considered "the lowest cost option able to provide a significant increase in supply to Gladstone". This study warned that a dam would put increasing pressure on river ecosystems from fishing, water abstraction and other human impacts especially during drought. A dam would also allow water weeds to thrive (salvinia and hyacinth). The risk of spreading weeds downstream and causing fish kills was also mentioned. The study stated "A dam on Baffle Creek will have potentially significant impacts on the near pristine aquatic ecosystems of Baffle Creek, its estuary and the coastal zone. A dam on Baffle Creek will also have local economic impacts in terms of recreational fishing and tourism." Yet the study did not rule out building the dam.

Although after the story broke Premier Bligh made a statement that "There will be no dam built on Baffle Creek for as long as I am premier", that is obviously not going to properly protect Baffle Creek. It needs to be written into legislation for the sake of future generations, not just for the life of this government.

Baffle Creek is a perfect next step for Wild Rivers - its crucial location in highly populated SE Qld means that its near pristine nature is under much more threat than the previously nominated rivers (in remote Cape York and Fraser Island). Feeding on to the southern end of the Great Barrier Reef Marine Park and the northern end of the Great Sandy Marine Park is further justification for careful management of the Baffle Creek Basin.

This area is recognised as significant in terms of natural heritage, being a near pristine estuarine system according to the National Land and Water Resources Audit 2001. The numerous National Parks in the Baffle Basin have allowed fishing and other nature-based tourism activities to prosper, and the declaration of Baffle Creek as a Wild River will ensure the future of these important industries. The natural and cultural values indicative of a "Wild River" are all present.

So far only relatively remote rivers have been nominated for Wild Rivers protection. It is time to use the flexible nature of the Wild Rivers program, allowing for more human impact, to protect rivers like Baffle Creek that are under threat now.

Government and industry need to modernise their practices. Further centralisation of water supplies is not sustainable. In this era of radical climate change it is important that we decrease the cost of water both financially and environmentally. Our past paradigms of shipping water from a centralised inland store whilst heavy rainfall areas on the coast wash trillions of litres of water off roofs and roads into the ocean is inefficient, expensive and tragically killing our beaches and marine life.

Stormwater harvesting is the common sense of the future, and government should not only fast-track large scale plans but also to continue to offer incentives and education to move to more decentralised storage and capture methods and greater individual responsibility for sustainable water use.

Visit http://fobb.enviro.org.au/nodam.asp to email politicians, write letters, sign a petition and learn how you can become part of the solution - go water neutral.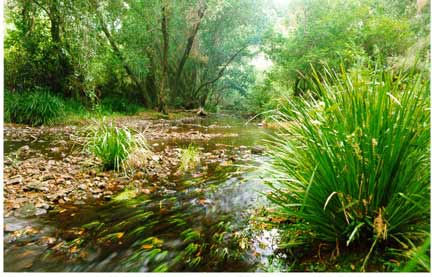 Related Links
http://fobb.enviro.org.au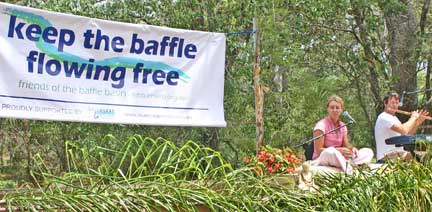 Latest News Headlines
Wednesday, 22 December 2010 Reporters Without Borders to host mirror site for WikiLeaks

Wednesday, 22 December 2010 San Francisco Pledges Astounding 100% Green Energy by 2020

Wednesday, 22 December 2010 Towers to Generate Solar Power in the Dark?

Wednesday, 22 December 2010 La Nina May Be At Its Peak, Says Australia's Weather Bureau

Thursday, 18 February 2010 Tetley Tea To Be 100 Percent Rainforest Certified By 2016

Thursday, 18 February 2010 Hottest Temperature Ever Heads Science To Big Bang

Thursday, 18 February 2010 Big business leaves big forest footprints

Thursday, 18 February 2010 GUATEMALA: Anti-Mine Activists Encouraged by Canadian Ruling

Thursday, 28 January 2010 GM Puts Its Money Into Electric Motor Business

Thursday, 28 January 2010 Italy To Unveil New Solar Incentives