by Sunirmalya Symons - Enviro Society of Australia - Monday, 22 September 2008

According to Sunirmalya Symons from the Friends of the Baffle Basin, it is not only stupid but unnecessary. "We are trying so hard to be carbon neutral, we should also be water neutral," he says. "The old paradigm of huge dams supplying water centrally and the ocean our toilet is about as stupid and unsustainable as it gets."
He believes that it is possible for every house to be water neutral. "We can easily get to the water we use coming straight from our roofs and with grey water recycling use more water than we do currently." In addition, he says after installation the ongoing costs would almost be free.
"We are about to blow $10 billion on a dangerous and unsustainable dam at Traveston which is completely unnecessary. If we used a fraction of that amount on a $10,000 subsidy for tanks, filtration and grey water recycling for every suburban house we could solve Qld's water issues with very little fuss," he says.
The water saved in one year would amount to half of all the water currently in SEQ dams.
Sunirmalya speaks passionately about how storm water runoff currently is polluting our oceans with all manner of toxic wastes and even heavy metals. "With the tiniest biofiltration storm water is perfect for domestic use. The problem then is storage, but when every house becomes its own water store we have the perfect solution, with a catchment area in every square km of the state."
He says with the addition of composting toilets every house could become completely self contained with no water entering or leaving the property. "This is a solution that stops SEQ water in its tracks, because it is made up of dam builders and engineers who know nothing more than how to pump water and sewage unnecessarily and with great environmental cost all over the state. Imagine if they were unnecessary."
His real passion is the Baffle Creek which still looks likely to be the next Traveston. "We are trying to stop them damming the Baffle and killing this near-pristine and beautiful wild river unnecessarily. This is not a problem that we have caused, it is a problem that every suburban Brisbane water user is causing by buying into the stupidity of SEQ water."
He says that whilst people keep watching the news and watching the dam levels and believing that is the problem, they should demand to see a thermometer for how many tanks we have and how sustainable we are. "This is not a government problem, it is a problem of education. We, the people, need to tell the government what we want. Domestic water usage has a solution. Industrial water usage also has other technological solutions. Simply by capturing the water that runs down the streets of cities and towns and storing it locally rather than polluting our oceans, we would help our marine life, protect our beaches, and have plenty of water."




These are photographs of Ensham Open Cut Coal Mine near Emerald, Queensland.
Related Links
http://fobb.enviro.org.au

There are a large number of large dams (>15m in height or >5m and holding at least 3 billion litres) throughout the world. Construction of large dams reached its peak in 1980. However, following research which revealed that "construction of large dams is not the solution to the problem, but rather postponement of problems with far higher risk," construction of large dams drastically dropped in the 1990s.

Apparently, dam burst study has been excluded from the Tillegra Dam Environmental Assessment at the request of the environmental consultants, Connell Wagner. The reason most likely is that it would alarm the residents of the Williams Valley if they knew the consequences of a dam burst at Tillegra.

According to the Asia Development Bank (ADB), "a positive outcome of the growing opposition to large dams (and generally to large engineering solutions to water-related problems) is the impetus this has given to finding new ways of solving problems of water scarcity. As a first step, planners now look for ways of improving the efficiency of existing physical infrastructure and distribution systems, introducing more efficient industrial processes, reallocating available water among competing users, and finding innovative ways of recycling water." The ADB takes a proactive role by helping its clients put in place sound policies for integrated water resource management, including pricing strategies and practices that reward efficiency rather than wastefulness. What ever happened to the clever country?

The World Commission on Dams (WCD) found the following facts:
Only 50% (n=99) of the sample constructions were completed on-time.
Project budgets on average blew out by up to 56% (n=80).
70% of dams built for water storage purposes fail to supply water as targeted. It was found that the less the area of a reservoir the higher the possibility it would successfully reach the target of water supply. This indicates that dams built for this purpose are often build excessively and wastefully.
60% of mitigation efforts made to deal with the impact of dams are futile and downstream damage continues to occur.
70% of agreements made related to the local people's life do not involve the local community concerned.

In addition to research carried out by WCD, IRN (International Rivers Network) also studied the contribution made by dams to global warming. Construction of dams causes emission of the greenhouse gases, methane and carbon dioxide. This happens because inundation of an area composed of organic substances, such as grasses, forest, plantation, wooden construction, plants and so forth causes decomposition processes to take place in an anaerobic manner which produces methane gas and carbon dioxide in large quantities.

And Dams Do Fail!

The Fairbairn Dam on the Nogoa River overflowed in January, 2008 putting a major flood through Emerald.
The mine flood system was designed for a 1-in-100 year flood of the river, but someone made an error!

The river overflowed the mine flood protection system, then flowed into the open cut shown in the photos. The open cut is greater than 60m deep and you can see the enormous velocity of the water. A dragline has a boom about 100m long, and a good portion of it is underwater.

The photos illustrate what a dam burst might look like.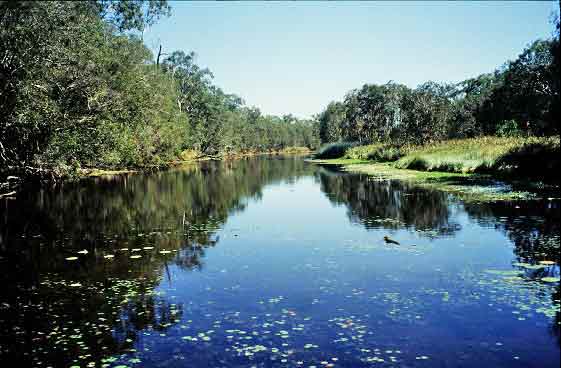 Baffle Creek Qld
Latest News Headlines
Wednesday, 22 December 2010 Reporters Without Borders to host mirror site for WikiLeaks

Wednesday, 22 December 2010 San Francisco Pledges Astounding 100% Green Energy by 2020

Wednesday, 22 December 2010 Towers to Generate Solar Power in the Dark?

Wednesday, 22 December 2010 La Nina May Be At Its Peak, Says Australia's Weather Bureau

Thursday, 18 February 2010 Tetley Tea To Be 100 Percent Rainforest Certified By 2016

Thursday, 18 February 2010 Hottest Temperature Ever Heads Science To Big Bang

Thursday, 18 February 2010 Big business leaves big forest footprints

Thursday, 18 February 2010 GUATEMALA: Anti-Mine Activists Encouraged by Canadian Ruling

Thursday, 28 January 2010 GM Puts Its Money Into Electric Motor Business

Thursday, 28 January 2010 Italy To Unveil New Solar Incentives